How you ever wondered how a town gets started? What brings people to an area? What creates a main street and a commercial district? How a town is named? Many towns spring up naturally by rivers, lakes, and seasides. Some begin because of their natural resources, such as coal, gold, oil, and rich soil for agriculture. And sometimes, it's a combination of these.
Most of us have imagined that our own town, Eagle Lake, began because of its proximity to the nearby large, beautiful natural lake, abundant with water, fish, and wildlife. While our first settlers were drawn to this area of river bottoms, good soil, and the lake, there was another reason why Eagle Lake became a town.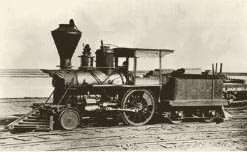 Eagle Lake, the town, began because of a diminutive locomotive called The General Sherman, manufactured in Massachusetts, bought and shipped second hand to Galveston, in 1852, and moved to nearby Harrisburg, Texas, which preceded Houston. The General Sherman was the first railroad locomotive in Texas, built in the northeast around 1837, weighing 13 tons with a speed of 35 miles an hour. It was a wood-burning engine, and as it chugged along, it spouted heavy smoke from its large balloon-type smokestack, designed for burning wood as fuel.
The area, which later became the town of Eagle Lake, was to become the third stop from Harrisburg, and fourth station on Texas' first railroad. Eagle Lake Pioneer Gamaliel Good, who had bought 2300 acres around the lake from early settler Patrick Reels, had divided his land amongst himself and his three sons, leaving him 600 acres.
A Mr. Harris from New York, with interest in the train, and for whom it is believed that Harrisburg, Texas and Harris County were named, came to the Eagle Lake area to buy land for a possible fourth station along the railroad to be built from Harrisburg to Austin, the state capital. He bought 300 acres from Gamaliel Good, and asked Mr. Good to help plat a town around the proposed train stop, which was to become the town of Eagle Lake, and a station for Texas' first railroad.
The small locomotive was named for General Sidney Sherman, a hero in the Battle of San Jacinto, and a founder of this first Texas railroad. The General Sherman train began service on Christmas Eve, 1852, and operated until 1870, ushering in the railroad era in Texas. Eagle Lake was an important part of it, as a station, and later as a town along the tracks.
In August 1853, twenty miles of track were laid to Stafford Point, and on September 7, the Buffalo Bayou, Brazos, and Colorado Railway began the first regular railroad operation in Texas, with the second stop reaching Richmond-on-the-Brazos, in 1855. Tracks were laid to Eagle Lake around 1859, and reached Alleyton in 1860, when the Civil War halted the construction further, until later, after it became the Galveston, Harrisburg, and San Antonio railroad.
Early transportation and shipping were difficult in Texas, with wagons, dirt roads, muddy pathways, costs, and time delays. Thus the early trains were important to business, commerce, and economics. The General Sherman changed Texas. It gave birth to Eagle Lake.
The small locomotive was retired in 1870, due to its size. It was left at Harrisburg until 1899, when it was sold as scrap metal. By 1905, the Texas railroad had become the largest railroad network in the United States. Eagle Lake today still hears the roar and rumble of numerous trains passing through both day and night. If you listen carefully between the shrill whistles of today's speeding trains, perhaps you can hear the faint echo of Eagle Lake's true founder, The General Sherman.
The Artists'Artisan
John W. Whitley (1887-1981)
Eagle Lake Headlight
Sandra C. Thomas
March 10, 2012
If you've ever visited the state Capitol, the Governor's Mansion, the Driskill or Commodore Perry Hotels in Austin, you have walked in the light of Eagle Lake's John W. Whitley. You may have seen his handiwork on the walls and ceilings of these and many other buildings and rotundas, through his restorations of much of the artwork and gold leafing done all around Austin, and in several other states. If you've traveled to Europe you could have seen his work in France, Germany, England, Italy and the Czech Republic. He was a good friend of Texas writer and humorist, J. Frank Dobie. John did art restorations for Dobie's extensive art collection, much of which hangs in a special room at the University of Texas. Eagle Lake's John W. Whitley was a master of his trade. His story is as fascinating as his work.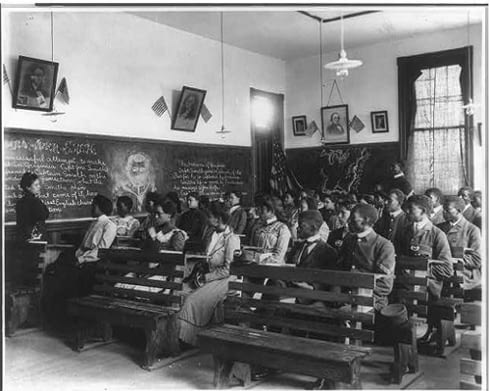 A young boy, born in 1887, in Eagle Lake may never have dreamed of a formal education, much less to have Booker T. Washington and George Washington Carver as his mentors. Young John W. Whitley was raised in the homes of Rev. Daniel Whitley, organizer of the Greater Mount Olive Baptist Church, in 1886, and Cicero Howard, community leader and county commissioner, who worked on the farm of Captain William Dunovant, founder of Lakeside Sugar Refinery. John was raised by his grandmother, and his aunt, Cornelia Whitley, wife of Cicero Howard, and lived near town on a farm.
John recognized early that his talents were his gifts, and that he could invent and do most anything. Some believed he should become a doctor. But he knew that his skills were mechanical, creative, and inventive. He invented very young, and built a mechanical gate and professional kites. His "auntie" saw early that John would not likely become a farmer, and told him one day that "he should get some mechanical training," a daunting prospect for young John, knowing he would have to leave home, and all that was familiar.
By walking, and riding when he could, John made his way to Alabama, to attend the Tuskegee Normal and Industrial Institute, later to become the home of the Tuskegee Airmen in World War II, and an important institution for the education of African American students and leaders. At 18, with little money, John arrived to Tuskegee, and entered the task of working by day to support himself, attending classes at the Institute at night.
His fellow students saw John's promise and gave him the name of "Deep Whit," as he always seemed to understand things that others couldn't. It's not surprising then, that John was in frequent contact on the campus with legendary Drs. George Washington Carver and Booker T. Washington. "They were my mentors," said John. "Dr. Carver knew more about peanuts than any man I ever knew, and Dr. Booker T. went out a lot to raise money for the school."
After four years, John had learned everything one could know about machines. He could duplicate parts, and do just about anything possible with a machine. In 1915, John moved to Austin and set up his own carpentry business, using machines to assist with the skilled work. As he began his profession, he remembered the words of his friend, Booker T. Washington, "Let down your bucket where you are," a thought which made a difference in John's future.
John worked with the Dewey Bradford Paint Company in Austin for a time, learning even more skills in business, painting, carpentry and restoration. Later, John started his own art repair shop, restoring paintings, pottery, and frames, in a space behind his home. He called it the "Ten Talent Shop," from the biblical parable of the servant with ten talents, from whom more was expected because of his many gifts.
Remembering the parable, John took it to heart, and set up a shop school to teach boys from Huston-Tillotson College mechanical training, as he had learned it from Tuskegee, and his own experience. John had all the equipment in his shop that the college didn't have, such as lathes, bench saws, sanders, and bench presses. From John's experiences with his mentors, he believed that "you ought to inspire some person during your life, especially a young person" to be of service to the world.
A spiritual man, who believed that his many talents were God-given, John helped to organize the Olivet Baptist Church in Austin, and named it. He served as a deacon and was on the board for many years, and later became a minister himself.
John W. Whitley's talents touched countless people and works of art in his ninety-four years. He made the world a better place carrying on the imperatives of Drs. Carver and Washington, and those of his church, family, and faith, in his Ten Talent Shop. Eagle Lake is proud of its native son.