Eagle Lake Headlight
Eagle Lake's First Picture Show
Sandra C. Thomas
February 27, 2012
With the internationally celebrated annual Motion Picture Academy Awards ceremony on Sunday, it was a reminder of the impact of moving pictures upon generations. Within the genius of the industry and its producers, directors, and actors, we have traveled the world. We've lived several lifetimes of adventure, mystery, comedy, intrigue, and love taking us well beyond our circumstances and imaginations.
And so it was, in the middle of Main Street in Eagle Lake on a Saturday, in 1904, across from the B.H. Daily Store, that the world changed. Within full view of a carnival on city square, and as an attraction, a tent was hoisted to introduce a new phenomenon – the first motion picture.
The tent stopped traffic, and the townspeople came inquisitively to see what the excitement portended. A large sign by the tent advertising the "Great Train Robbery" was enough to gain attention. Tickets were sold and onlookers quickly filled the tent space to experience the first wonder of the movies — the silent film.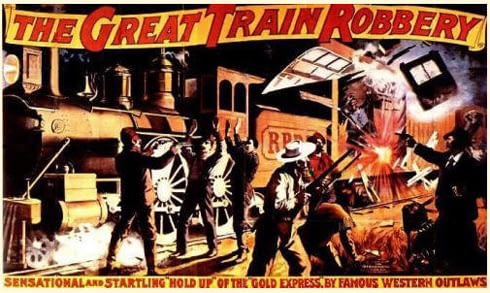 As local adventurers crowded into the tent, the barker shouted "they were about to see for the first time in history, and in live motion, a Western adventure with horses, cowboys, guns, and a moving train right before their very eyes." And in the twelve minutes it took to tell the story of "The Great Train Robbery" in film, Eagle Lake had become a part of history. It had experienced its first picture show.
Who could have imagined that in 1903, genius inventor Thomas Alva Edison would bring to life on the screen only what one could have dared to dream. Edison, who invented the light bulb and the phonograph, was a natural to become the producer of the first narrative film, one which told a story. While he and others experimented with short clips and stills in the late 1890's, his remarkable production of 'The Great Train Robbery" made history, with new editing techniques, a full story, and a surprise ending. And Eagle Lake was a part of it.
This first film generated such interest that others were made, and soon the carnival tents gave way to permanent structures to house increasing interest in the picture show. Thus began the movie house and the silent film industry, and a succession of Eagle Lake theaters. Should we be surprised then, that history repeats, and that this year's Academy Awards Best Picture was, what else, — a silent film.