How you ever wondered how a town gets started? What brings people to an area? What creates a main street and a commercial district? How a town is named? Many towns spring up naturally by rivers, lakes, and seasides. Some begin because of their natural resources, such as coal, gold, oil, and rich soil for agriculture. And sometimes, it's a combination of these.
Most of us have imagined that our own town, Eagle Lake, began because of its proximity to the nearby large, beautiful natural lake, abundant with water, fish, and wildlife. While our first settlers were drawn to this area of river bottoms, good soil, and the lake, there was another reason why Eagle Lake became a town.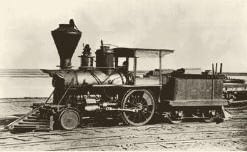 Eagle Lake, the town, began because of a diminutive locomotive called The General Sherman, manufactured in Massachusetts, bought and shipped second hand to Galveston, in 1852, and moved to nearby Harrisburg, Texas, which preceded Houston. The General Sherman was the first railroad locomotive in Texas, built in the northeast around 1837, weighing 13 tons with a speed of 35 miles an hour. It was a wood-burning engine, and as it chugged along, it spouted heavy smoke from its large balloon-type smokestack, designed for burning wood as fuel.
The area, which later became the town of Eagle Lake, was to become the third stop from Harrisburg, and fourth station on Texas' first railroad. Eagle Lake Pioneer Gamaliel Good, who had bought 2300 acres around the lake from early settler Patrick Reels, had divided his land amongst himself and his three sons, leaving him 600 acres.
A Mr. Harris from New York, with interest in the train, and for whom it is believed that Harrisburg, Texas and Harris County were named, came to the Eagle Lake area to buy land for a possible fourth station along the railroad to be built from Harrisburg to Austin, the state capital. He bought 300 acres from Gamaliel Good, and asked Mr. Good to help plat a town around the proposed train stop, which was to become the town of Eagle Lake, and a station for Texas' first railroad.
The small locomotive was named for General Sidney Sherman, a hero in the Battle of San Jacinto, and a founder of this first Texas railroad. The General Sherman train began service on Christmas Eve, 1852, and operated until 1870, ushering in the railroad era in Texas. Eagle Lake was an important part of it, as a station, and later as a town along the tracks.
In August 1853, twenty miles of track were laid to Stafford Point, and on September 7, the Buffalo Bayou, Brazos, and Colorado Railway began the first regular railroad operation in Texas, with the second stop reaching Richmond-on-the-Brazos, in 1855. Tracks were laid to Eagle Lake around 1859, and reached Alleyton in 1860, when the Civil War halted the construction further, until later, after it became the Galveston, Harrisburg, and San Antonio railroad.
Early transportation and shipping were difficult in Texas, with wagons, dirt roads, muddy pathways, costs, and time delays. Thus the early trains were important to business, commerce, and economics. The General Sherman changed Texas. It gave birth to Eagle Lake.
The small locomotive was retired in 1870, due to its size. It was left at Harrisburg until 1899, when it was sold as scrap metal. By 1905, the Texas railroad had become the largest railroad network in the United States. Eagle Lake today still hears the roar and rumble of numerous trains passing through both day and night. If you listen carefully between the shrill whistles of today's speeding trains, perhaps you can hear the faint echo of Eagle Lake's true founder, The General Sherman.